The employees of Superior Essex, Essex Brownell, and Essex Furukawa Magnet Wire have again come together in support of the neighborhood surrounding its Fort Wayne facilities.
The group dedicated a new, youth-focused, library last week. It was placed outside the plant; next to the Phenie Street Food Pantry—which celebrated its 5,000th food item, and 300th piece of clothing donated into the community. The library will be a family-forward outlet and is designed to be a natural extension of the pantry. It is currently stocked with crayons, toys, coloring books, young-reader books, magazines, and plenty of other materials donated.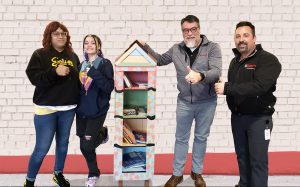 Greg Bosk is on the advisory board of the project and is the Energy Technology Engineer for Essex Furukawa. He said that the team has embraced the Mother Theresa message on the pantry to 'help one person at a time and always start with the person nearest you.'
"There are some great people here; it is our belief that we owe the community we are in an opportunity to get back on its feet," he said. "This is just a small step and once we learn how to do this, we can move on to bigger and greater things."
The library was built by Doug Anderson, a Senior Quality Engineer for Essex Furukawa using recycled material from the facility. It was painted by Isabella DiRico, a local Girl Scout attending Snider High School and daughter of April Nowlin—a Customer Support Specialist for Essex Brownell. Applications to become part of the 'Little Free Library' system have been submitted for the project.
Isabella said that the design came from her passion for abstract art and added that she wanted to use contrasting styles from the food pantry, helping to ensure both can shine.
"It is easy to see from a distance, and it stands out," she said of the library. "I hope people come together to help donate books so that others can read them."
There are plans to expand what is available at the location as the weather breaks. It is anticipated that there will be snacks for children at the local elementary schools, toys, and other already-donated items by the employees.
Recently the Phenie Street Food Pantry became a 501(c)3 which allows donations from employees—or any individual—to be tax deductible. It also allows Superior Essex to match any monetary donations to the pantry.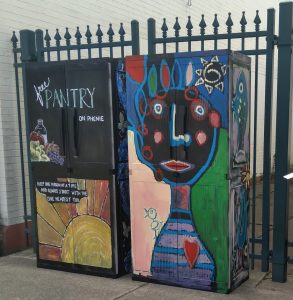 Bosk said that the decision to move in that direction was a logical one. It was also an easy one.
"If an employee walks up and hands me a check for $25, they can get a receipt for that donation. Then the company can match that $25, and they do," he said.
"These projects are entirely employee-driven but by being 501(c) we can also partner with other local organizations and that helps extend the benefits in our community."
Superior Essex has a gift matching policy for employees in support of all nonprofit charities and organizations, like the Phenie Street Food Pantry, of up to $1,500 annually. It also encourages Gifts in Kind and Dollars for Doers to allow employees to volunteer time in the local community programs and organization.
Fort Wayne has a population center of just over 265,000 with a 'persons in poverty percentage' of 15.5%—which is higher than the national average of 11.6%, according to the 2022 US Census. Bosk says that the circumstances ebb and flow in the area, and that he hopes Superior Essex employees continue to support the local efforts.
"No one is doing this for a pat on the back or an attaboy," he said. "We get a good paycheck. This is a great company to work for. The spirit of giving-when-you-can remains alive because many people know what it feels like when you are the one in need."