The Employee Club at Superior Essex made the holiday season brighter for nearly a dozen families surrounding its Fort Wayne (IN) location.
The club has existed since 1980, and according to its President Randy Konowitz, the group has been fulfilling the wishes of its 'adopted families' since its inception. This last holiday season saw each receive four presents per child plus two additional—bigger ticket items—for the family.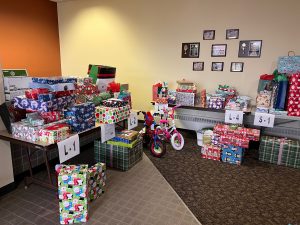 The gifts have traditionally gone to families in the local elementary schools. Lindley Elementary is about five minutes from the Superior Essex complex. Study Elementary is just under one mile away.
Konowitz said that what is often asked for, is a shock. Most of it is basic needs and not luxury items.
"The kids, they come back and oh, my God, they ask for nothing but shoes, socks, school uniforms and the necessities," he said. "The few toys they put on their list are simple and inexpensive; many want art or craft supplies but it's mainly essentials that they ask for."
Now, with nearly 45-years of history at its back, The Employee Club also knows the big asks every year are going to be two wheels of freedom. Of course, kids want a bike! This year the Club delivered 13.
"We used to have Santa Claus go to the families houses and deliver the gifts! Now we have a slew of 'Elves' that help deliver the gifts to the school counselors," Konowitz explained. "The counselors are nearly in tears when all the gifts are delivered. It is a wonderful moment."
As time marches on, the group continues to modernize.
"Over the years we've done all kinds of unique little things," he said. "They used to put trees out and employees took a tag to buy a gift. Now we have a shared spreadsheet that we send out to all the employees in Fort Wayne. Everyone always comes through."
This season members were able fund the ask mostly on their own. That has not always been the case. A partnership with Terri Lynn has been a fundraising option that The Employee Club has leaned on.
The fundraising website allows people the world over to purchase their favorite snack. It gives a percentage to the cause and helps people in the area. The pistachio and malted milk ball options are a go-to-choice for many.
Konowitz added that while current members of The Employee Club have been able to meet the needs of area families, he is always recruiting new members to increase participation.
"We do a lot of fun activities as a group to go along with the great things we do for the community," he said. "Like most anything else, the more the merrier; I would encourage everyone to join."
Superior Essex is proud to support our local communities around the globe and we hope sharing a glimpse into what we did in Indiana inspires others to do the same.